After I walked around Munich old town which I wrote about in the last post. I took a chance to see the museum of BMW, the big motor company in Bavaria who also has the headquarter in Munich.
BMW Museum is in the same area as the headquarter BMW Tower, the car show room BMW Welt and BMW Group Plant Munich.
You can easily go to BMW Museum by taking U-Bahn train to Olympiazentrum station and left the station at Exit B.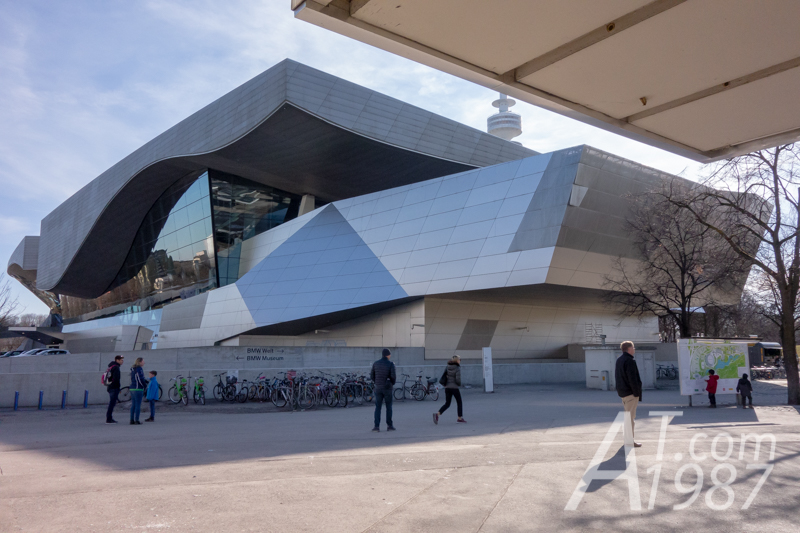 You will see BMW Welt and the arrow points to the museum when left the exit.
You will see the iconic Museum Schüssel (Museum Bowl) which is resemble to cylinder head of BMW Museum. It is designed to together with the 4 cylinder shape of BMW Tower.
The museum usually opens every Tuesday – Sunday at 10:00 – 18:00. However it is closed temporaly due to COVID-19 now.
There is no entry fee but you have to buy 10 Euro ticket (price in 2019) to see the permanent exhibition in Museum Platz and temporary exhibition in Museum Bowl at the ticket counter in Museum Foyer.
You can also buy an additional guide tour for the museum, BMW Welt and/or BMW Group Plant Munich. For those who don't need the guide tour, you can download BMW Museum app from Apple App Store or Google Play Store and listen to the voice guide in the app.
I saw the tempory exhibition first. The topic is BMW i – VISIONARY MOBILITY which is about the development of BMW electric cars series.
There is a locker room at the begining of the spiral path to the top floor of the bowl.
BMW i – VISIONARY MOBILITY exhibition told the development story of BMW i electric cars from the time BMW tried to develop the electric cars to the time they completed BMW i series. We learnt the development of each parts of the car, its sustainbility factory and the use of natural and recycled materials to manufacture the parts.
The exhibition will not completed if there are no prototype cars. BMW i prototype cars were shown in this exhibition including the fuel cell powered BMW i8 Skyfall. The car designed to be in James Bond movie but it wasn't chosen by the movie production.
On the top floor of Museum Bowl, the exhibition told the future of eletric card including the autonomous driving level, BMW NOW mobility service (ChargeNow, ParkNow, DriveNow and ReachNow. and BMW i Inside Future car interior design prototype.
After finished watiching the exhibition in Museum Bowl. There is an escaltor at the top floor which directly bring us to the Museum Foyer below.
Next we will see the permanent exhibition in the Museum Platz.