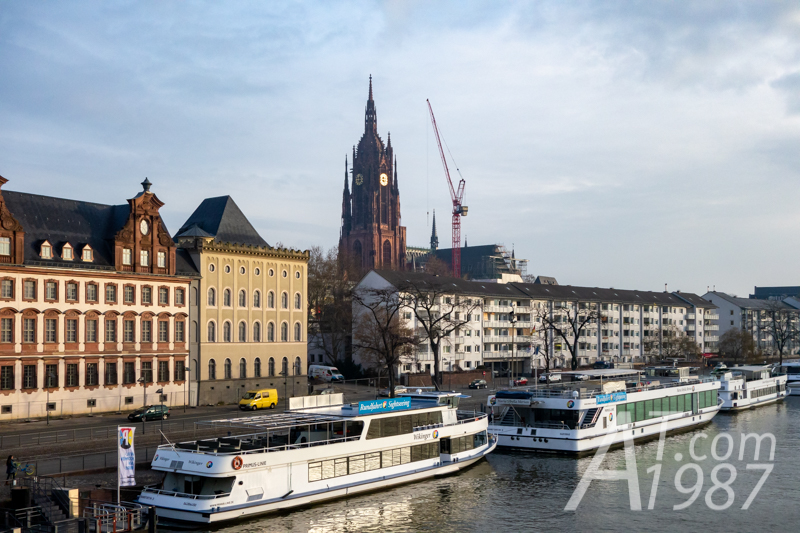 After arrival at Frankfurt Airport. Our group had some times left before boarding the connected flight. So we left the airport to look around the old town of Frankfurt.
We traveled to the city by S-Bahn train at Frankfurt (Main) Flughafen Regionalbahnhof station where is on the basement of the Airport.
We got off at Frankfurt (Main) Hauptbahnhof station then got on the taxi to the old town.
We began looking around the old town at Paulsplatz where St. Paul's Church and Unity Monument are here.
Next to Paulsplatz is Römerberg where is the center of Frankfurt in the old age. One of the attraction here is Old St Nicholas Church.
Near Römerberg is Main River where Eiserner Steg bridge crosses.
I saw a lot of love locks here. I didn't expect this tradition in Germany.
I found Domturm which is the tower of Frankfurt Cathedral on the way back to the town square.
We stopped by the indoor market Kleinmarkthalle.
There are restaurants and vendors selling fresh food, trees and flowers. We didn't spend much time here because we had to return to the airport.
We went back to Paulsplatz and took the trem back to Frankfurt Main Station to take the train back to the airport.
We went to Berlin by Lufthansa Airbus A321.
Although it is a short flight within the country. They serve Kagi wafer at the entrance and beverage after the plane takes off. I tried out the Lufthansa famous tomato juice. It is served with salt and pepper. At first I thought is it really work, but after put them in the juice and drink. I thought the taste is better.
Next time I will write about my trip in Berlin. Please look forward to it.