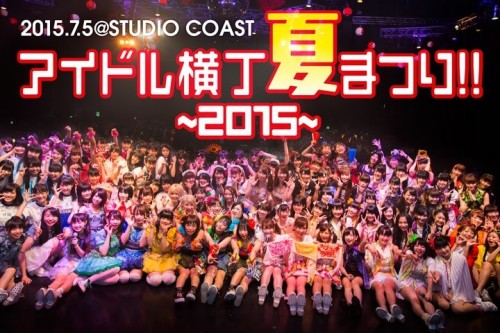 If we are talking about Japanese idols event in July, the biggest event must be Idol Yokocho Natsu Matsuri. It features more than 100 idols groups who will refresh you in the heat of summer.
Since the official site announces the date of this year event. I think I should stop Amachan location tour posts and write about the last year event which I went first.
Remark: Since the photograph was prohibited. I have to use photos from idols' social networks and blogs in this post.
After I packed my baggage and checked out from the hotel. I went to Tokyo Station for putting my baggage in coin lockers here. I had a hard time to find vacant lockers because I went to the station late. Finally I found old coin lockers on the B2 floor.
After I put everything I didn't need in the lockers. I took Musashino Line to Shin-Kiba Station where the event venue Studio Coast is on. (This year event is at Yokohama Akarenga Souko.)
The festival was almost opened when I reached Shin-Kiba Station. I saw the end of the queue across the bridge to Studio Coast.
Entry system is the same as GEM's concert at Asakasa Blitz. Staff called out 10 people at the time according to the number on tickets. People who bought the tickets earlier will be called first.
The earlier ticket is cheaper and let you go to the event earlier. So you have the time to queue for buying idol goods or have a chance to see the performance from the front row.
Although I was late on that day. The number on my ticket wasn't the earlier number. So going to the venue earlier doesn't help me get inside faster.
Finally I was called after the festival began shortly. Staffs tore my ticket, check my backpack and collect 500 yen. Then I was given a wristband and drink ticket.
Entry point is on the top right of the map. (Black)
There are 4 stages in the festival. Outdoor stage (green), tent stage (purple), DJ stage (blue) and indoor stage (red).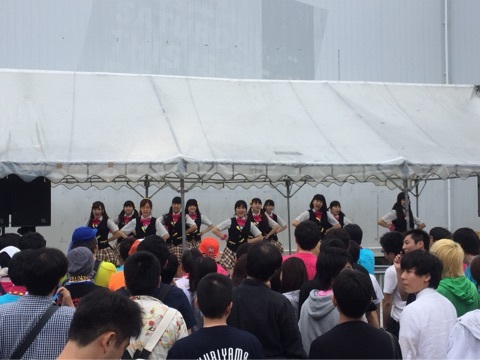 I was very excite and didn't know where to go first. So I watched JELNO! and 8 Princess performance at outdoor stage first.
PlugAir was still sold here too.
After I calmed myself. I began following my plan which was going to see e-Street performance at indoor stage. e-Street is the group of selected trainee of iDOL Street from the east side of Japan.
I also found iDOL Street table selling Wa-Suta and e-Street photo boosters with handshake event coupons on my way to indoor stage. I saw no reason not to buy each of them.
The first performance on indoor stage was exercise dance by gravure idols in swimming suits. This wasn't broadcasted on Nico Nico.
Gravure idols had their own activities in Gravure Yokocho area instead of stage performances. Interested visitors can buy the ticket to join them.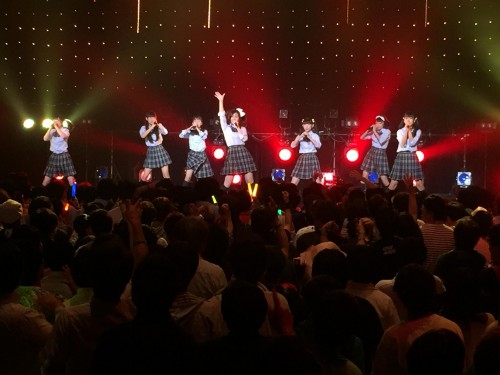 Next is e-Street members performance. Other iDol Street members also watched them on the VIP balcony. This made audiences below looking at them instead of the performance. So Wa-Suta's Haachin had to give a hand sign to ask them to watch her juniors's performance on the stage.
I watched performances on the indoor stage until Akamaru Dash☆ left the stage. Then I went outside to queue for Wa-Suta's handshake event.
Handshake event was in Fureai Yokocho (The pink zone). There were 14 lanes inside which using by idol groups for handshake and photograph events.
Wa-Suta handshake was in K and L lanes. Members in K lane were Nacchun and Mari. L lane members were Haachin, Riri and Ruka.
I planned to meet Haachin since she was in Hanarichu and GEM starting members. So I queued up at L lane but not before I queued up at K lane and realized that I was in the wrong queue when it's almost my turn.
My talking topic is self introduction. Because I meet them for the first time. Also there are a little time to talk and it's very hard to hear since the lane is near the tent stage.
The first member in L lane was Hachin. After I introduced myself. I told her I am her fan and follow her works. She said thanks to me and talked about her uniform. She pointed and explained her cat ears and uniform until a staff took me away from her.
The staff left me at Riri. I told her my acquaintance is your fan. (I know later I was wrong. I switch her with Nachun.) She praised my Japanese. Then the staff pushed me to the next member.
The last member in L lane was Ruka. We couldn't hear each others because the sound from tent stage was very loud. I had to repeat what I said to her many times. Too bad the staff separated us when we heard what we talked.
I thought of buying another ticket but it was sold out. So I had a drink then walked around the venue.
After I walked around the venue for a while. Then it's time to fill my stomach.