Continuing from the last post. I returned to Taipei Main Station from Mitsui Outlet Park Linkou. So I could take the train to Taipei 101 the highest building in Taiwan.
I got off the train at Taipei 101–World Trade Center Station and went to Exit 4 which leaded me to the building directly.
The ticket counter and entry are on the fifth floor of Taipei 101 Mall. The ticket was 600 NTD at the time I visited.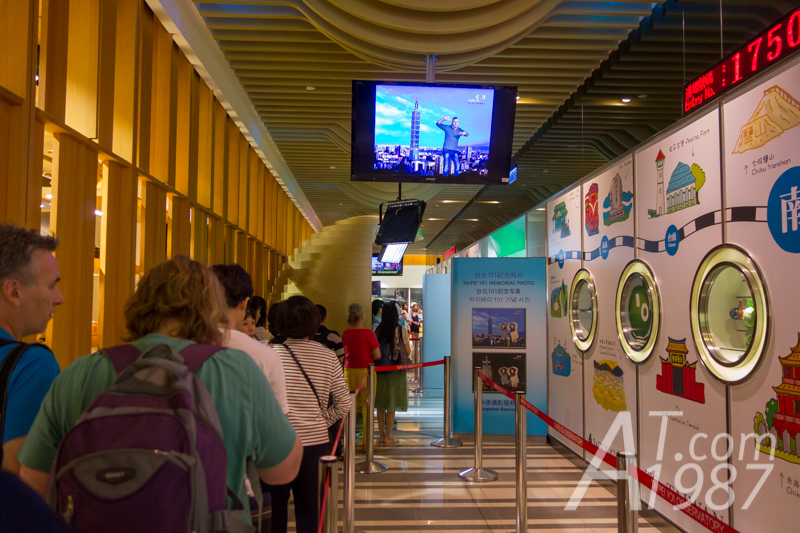 People had to be taken a souvenir photo while they were in the line to observatory elevators. If you want it, you can bring the coupon given after taking a photo and pay at the counter on 89th floor.
It didn't take a long time to reach the observatory elevators. They are used to be certified by Guinness Book that they are the fastest passengers elevator in the world during 2004 – 2015. They are installed by Toshiba Elevator.
The elevator brought me to 89th floor where indoor observatory is on. I met Taipei 101 mascot "Damper Baby" named Lucky Red in Magic Monkey costume. Because the year I went is a year of monkey.
Taipei 101 Observatory has one of a gimmick named Infinity Sky. This observatory part has reflective floor and ceiling which makes an infinity reflection image like we are standing between the earth and the heaven.
Let's take the stair to go the 91st floor of Taipei 101.