After the bus brought us from Sun Moon Lake to Taichung Station. I still had some time left to explore the station before getting on the train to Taipei.
Since I hadn't tried out a Taiwan's famous milk tea yet until that day. I decide to buy a famous Chun Chi He Milk Tea at 7-ELEVEN.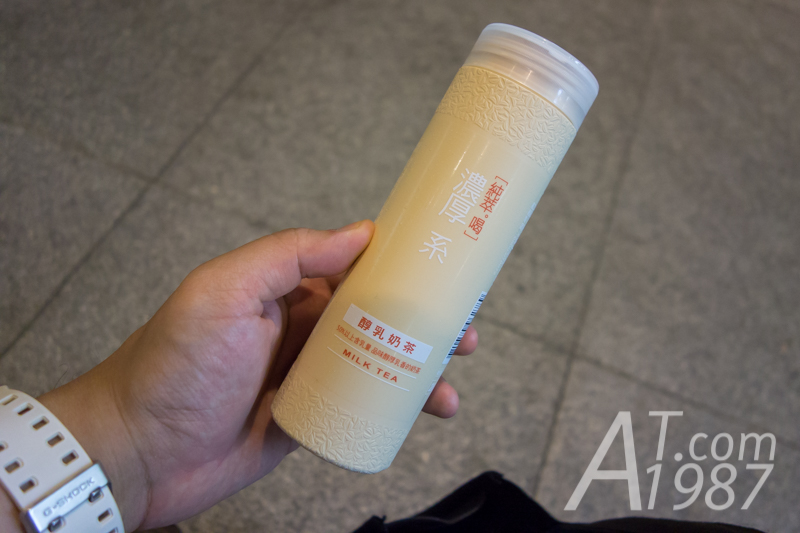 Its taste is good. You can feel the taste of tea from it. It's also too sweet like the drink sold here. What I like most is its size which gives me enough of drink. Not too big so I can't finish in one time like other drinks.
 I left the group of my companion when we return to Taipei Main Station about half past six. The trip was finally mine.
I walked around in the station and didn't forget to buy Hello Kitty plush in TRA uniform at Taiwan Railway Shop. (The shop is at West 3 gate. The same gate as we got off the taxi at dawn.)
I took a train to SOGO Taipei Fuxing where I had a dinner at Din Tai Fung the day before. I think it has the same feeling as other Japanese department store chains. However a Japanese garden on the 9th floor is very beautiful especially when you look it from 10th or 11th floor.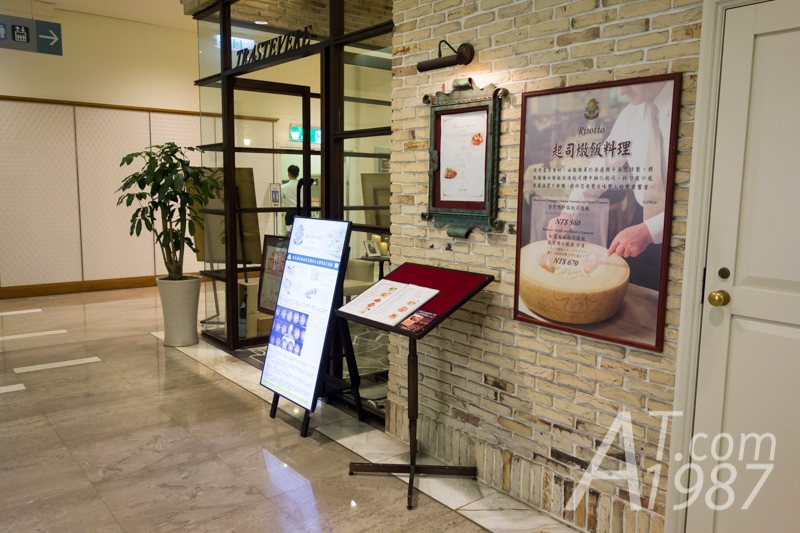 I looked around the department store until 8 PM. Then I went to an Italian restaurant TRASTEVERE for dinner.
I knew this restaurant when I did a research about Taipei. So I kept it as restaurants I planned to go.
The interior design have an Italian restaurant feel. The windows side tables can see the Japanese garden on the floor below.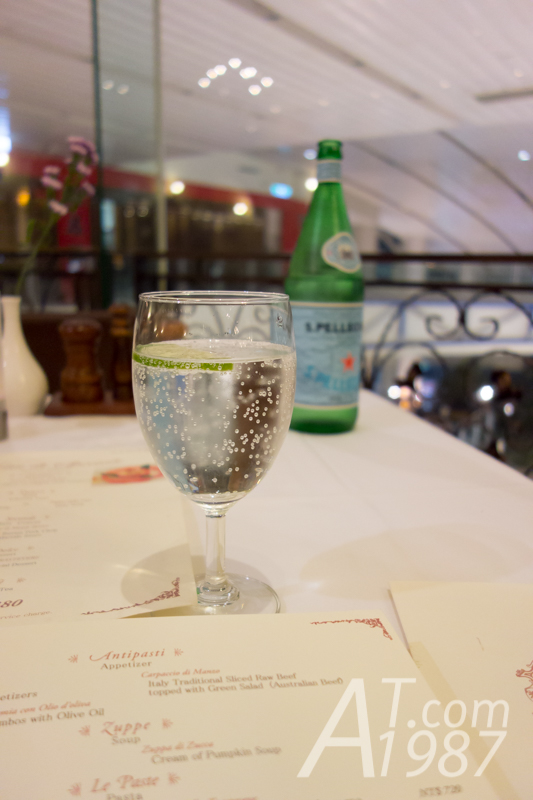 When I was at my table. A staff brought me a menu and asked me for if I needed any mineral water. I told him to serve me a sparkling S.Pellegrino. Then the staff left me with drink and menu.
I ordered a dinner set which consists of appetizer, soup, pasta or pizza, dessert and tea or coffee. We can choose the dishes we want from several pre-selected dishes. The price was between 680 – 820 Taiwan Dollar depend on the kind of pasta or pizza we choose.
Ten minutes after giving an order. The appetizer I chose was served. It is Antipasto Misto alla TRASTEVERE which is a set of 8 Italian appetizers like cheese, ham, salami. You can feel that they are quality and tasty.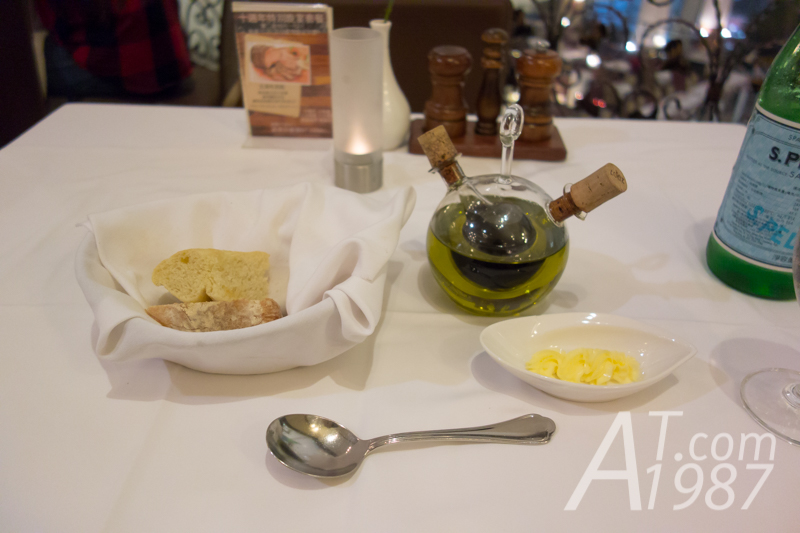 Waiter brought me soft and hard bread with olive oil and butter 10 minute later.
It's certain that the next dish after breads was soup. I selected this tasty onion soup.
For the main dish. At first I have a trouble to choose between pasta and pizza. But the restaurant's oven was broken when I went to here. So I had less choices to choose.
I chose Spaghetti al Pomodoro con Gamberetti e Mozzarella or spaghetti with shrimp, mozzarella cheese and tomato sauce. Overall taste was good as I hoped. Spaghetti is well cooked. Shrimps is tender. The sauce has tomato sweet taste with the salt from cheese.
ปิดท้ายด้วยของหวาน ที่ผมเลือก I chose Blueberry Cheese Cake for dessert. The cake was served with vanilla ice cream. I thought it's normal.
The dinner was concluded with iced tea. It was served with milk and syrup.
I think the food at TRASTEVERE is good and the price isn't that expensive. Its weak point which I found when I researched about it is the service which its staffs weren't skillful enough for fine dining restaurant. However I think its service was good and didn't frighten people who are afraid of fine dining manner.
I found Taipei Metro Souvenir Shop when I was on the way back to Ximending. I stopped by here to buy a Majimeow plush. Majimeow is mascot for MRT Culture Promotion Campaign at the time I went to Taiwan.
I could see street performance and stores here when I was on the way back to the hotel from station.
For those who love Japanese music. Don't forget to see the music shop here. Because Taiwan version is cheaper than Japanese version. I bought Kimi no Na wa and Gulity Crown soundtrack CDs here. Their price is reasonable.
That's all of the forth day of my Taiwan trip. Next time I will write about the fifth day that I began the trip at Lungshan Temple. Please look forward to it.