As usual there was an announcement  before the show begin. Double Sayuri – Inoue and Matsumura took this role for this event.
Now the mini live began. The set list are all songs in Barrette single. Began with Barrette.
Hatsukoi no Hito wo Imademo. Hoshimina is center.
Then MC part. As all of you have already known. It's the first live DVD announcement. The beginning of VTR is very funny. It showed the comment from internet forum. One of it's "You guy bring the video cameras every events." (Why there are no live shotage from it.) I laugh.
Also Hoshimina's dad and Kasumin's dad came to see their daughter working. Kasumin's dad bought 20 CDs and give away to others too. Ikoma-chan also warn her fan to not forget how important of December.
The 2nd generation members introduced themselves because this is the first national handshake event they joined.
Watashi no Tame ni, Dareka no Tame ni Yasashisa to wa.
Yasashisa to wa. The C/W song from regular version.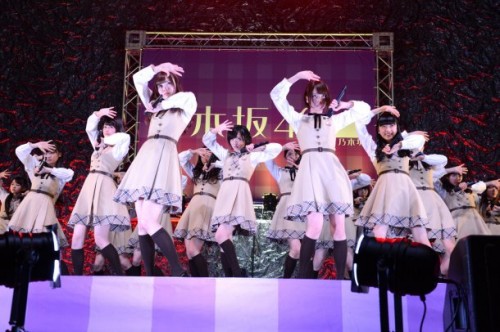 Tsuki no Ookisa. Naruto newest OP song. They played this song very short.
The last song is Sonna Baka na… It seemed that they replay their PV on the stage. Nanamin wore the sunglasses like in the PV too.
After mini live, staffs asked all guests to wait outside for transform  the mini live area to handshake event area. Some people were in the queue for handshake event. Others went outside to have lunch or whatever they did.
Now it's time for handshake event.