We went to the longer route which leaded us to the rooms around Imperial Courtyard. They used to be reserved for emperors and his wife when they visited Munich.
One of the highlight is Augsburg Silver Clock in Stone Rooms.
Next to Imperial Courtyard is Chapel Courtyard where is the place of Court Chapel, this palace's 2 stories chapel.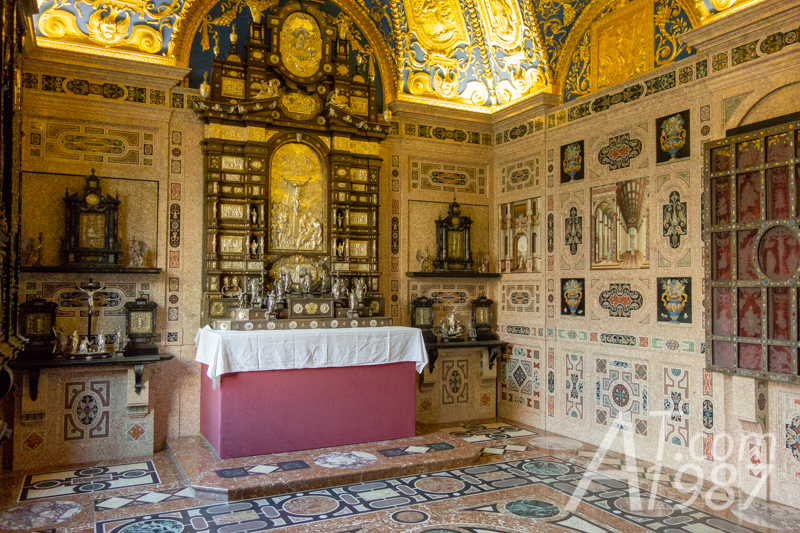 Another chapel in Munich Residence is Rich Chapel. It is the private chapel of Duke Maximillian I and his wife where is near Court Chapel.
After passing several rooms in Chapel Courtyard, we returned to the short route which brought us to the rooms around Royal Palace Courtyard such as Rich Rooms. The highlight rooms there is Green Gallery where more than 70 painting are shown.
The route ends at Ancestral Gallery on the first floor of Royal Palace Courtyard. It shows the portrait and information of Wittelsbach family, the family of Germany dynasty that governed Bavaria.
We stopped by the souvenir shop which sells similar goods like the shop in Nymphenburg Palace. However I think there were more expensive goods.
I looked for the palace information book like the one sold at Nymphenburg Palace. Unlucky the English version was out of stock.
After we left the palace, we stopped by Theatine Church nearby to see its interior.
Next time I will write about my dinner at Augustiner Stammhaus in Munich old town. Please look forward to it.